HAZAK
.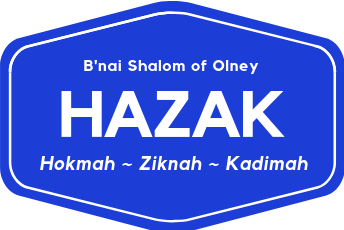 B'nai Shalom of Olney's HAZAK Chapter is an active senior community within our larger congregation and was created to serve congregants 55 and older. Our social, spiritual, educational and cultural activities are open to all BSO members. Our chapter joins with other HAZAK chapters on a local, regional and national basis.
Upcoming Programs:
Sunday, February 23 @ 1:00 p.m. - Winter Film Festival: Double Feature with intermission, dessert & discussion.
Thursday, March 19 @ 10:00 a.m. - Spring Trip to the Chinese-American Museum. Click here to RSVP.
Wednesday, July 8 through Wednesday, July 15 - HAZAK Senior Retreat in the Catskills. Click here for info.​​​​​​​
Thu, April 22 2021
10 Iyyar 5781
ECS Registration for 2021-2022 open now!
Today's Sefirah Count Is 25
היום חמשה ועשרים יום שהם שלשה שבועות וארבעה ימים לעמר
Today's Calendar
ECS School

: 8:00am
Thinking Jewishly

: 11:00am
Minyan

: 7:30pm
---
Upcoming Programs & Events
---
Candle Lighting
Pesach Sheni
View Calendar
Thu, April 22 2021 10 Iyyar 5781