Weekly Shabbat Announcements
Saturday, April 21, 2018
6 Iyar 5778

Upcoming Activities and Events: 
BSO Events Calendar                            




A big thank you to Linda Ginsburg, Nancy Mannheimer and Debbie Kram, who donated their time providing exercise classes at BSO on Good Deeds Day. And, a special thank you to Cindy Shuman for organizing the event and to Andy Shuman for volunteering with the Bone Marrow Swab. 



Calling everyone aged 18-45!  We are extending this event and need you to participate in our Bone Marrow Swab - Sunday, April 29th at 12:00 p.m.
It's a great feeling to know that you have the power to save a life. Thankfully, you won't need to leap tall buildings in a single bound to be a superhero!  You just need a cheek swab, a kind and compassionate personality, and a willingness to be someone's hero when, someday, you receive the call that you are a match!  Are you ready to save a life?  The first step is to get swabbed!  BSO will have all the testing kits on hand. For more information about bone marrow swabbing, go to: https://www.giftoflife.org/.



We are collecting non-perishable ingredients (kosher) to make a lasagna dinner for our community helpers at a later date (firefighters, policemen, guidance counselors, volunteers, etc.). Please donate either lasagna noodles, tomato sauce or gift cards to local grocery stores. There will be collection boxes at BSO thru April 29, 2018.


April Shabbat Dinner - Tomorrow, April 20 - Sponsored by BSO Staff and Kitah Hey (5th Grade)



5:45 p.m. – 6:15 p.m.  Rabbi Rosenberg & Hazzan Sara Geller will lead a Toddler Shabbat service (ages 0-5 with parents), in the Sanctuary 
6:15 p.m. - 7:30 p.m. Israel Shabbat Dinner
7:30 p.m. - 8:15 p.m. Shabbat Service (Everyone is Welcome!) 
(We will also celebrate all April birthdays!) 

Don't forget to wear your best blue and white!




Kiddush Konversation - This Saturday, April 21 
Join us this Saturday at 12:30 p.m. in the Triple Classroom, over lunch, for our next Kiddush Konversation.  
We will discuss, "Why We Remain Jews," a book by Vladimir Tsesis.
For more information or to volunteer to lead or sponsor a future Konversation, please contact chairperson, Earl Kudlick, or call at (301) 570-9175.


Federation's Imagine Israel Event with Changemaker Joseph Gitler - Wednesday, April 25th. 
Joseph Gitler is the founder of Leket Israel, Israel's National Food Bank and largest food rescue network.  After Gitler shares his story, he will sit on a panel alongside DC Central Kitchen's Andrew Finke to talk about food rescue in DC and in Israel, and the Jewish values of food justice.  It will be an evening of Washingtonian-Israeli connection over a topic that is relevant and important to all of us.  We hope you can join! Register here.
 

 
 
Hear how one man turned his personal mission into Israel's largest food rescue network. Meet Joseph Gitler, and learn how Leket Israel is providing food for more than 200,000 impoverished Israelis every week.
 
Wednesday, April 25 
7:30 p.m. - 9:00 p.m.
 
COST: $18 ticket includes discussion and light dessert reception
Kosher dietary laws observed.

American University
Washington College of Law 
Claudio Grossman Hall
4300 Nebraska Ave. NW
Washington, DC 20016
Parking available on-site. 
 


Tune in to Federation's Imagine Israel Podcast with Joseph Gitler here.


Olney Days Parade - Sunday, April 29
12:15 p.m.– BSO Pre-Parade Lunch
(outside of Social Hall B– weather permitting)
2:00 p.m.– Parade Begins
Click here to see the flyer.
Click here to RSVP.

JTS Evening of Learning - Sunday, April 29
"The Land of Israel: Land of Longing, Land of Promise"
Congregation B'nai Tzedek
10621 S. Glen Rd
Potomac, MD
Sunday, April 29 from 5:00 p.m. - 9:00 p.m.
 
We are excited to be partnering with the Jewish Theological Seminary as well as with several synagogues in the Greater Washington area for the fifth annual JTS Evening of Learning.  The program will feature several outstanding JTS scholars for a stimulating and meaningful Jewish learning experience. The focus of the studies will be "The Land of Israel: Land of Longing, Land of Promise" – JTS faculty and fellows will explore the role that the Land of Israel has played in the Jewish imagination over the course of millennia and consider how this resonates with us today. The evening will conclude with a festive leil shirah (communal singing) led by local cantors, including our own Hazzan Sara Geller! 

For more information, click here, and to register, visit www.jtsa.edu/eveningoflearning 

Sisterhood Meeting May 6
Women of BSO Community Town Hall
Sunday, May 6, at 9:00 am
BSO - Social Hall A
Drinks and snacks will be served. 
See details below under Sisterhood.

Adult Education: 
Click here to see our updated Adult Education webpage.

Thinking Jewishly - Thursdays at 1:00 p.m. with Rabbi Rosenberg
We will continue to explore contemporary issues through a Jewish lens, based on the weekly parsha.  Together, we will "think Jewishly."


Senter Israel Scholarship
Are you a B'nai Shalom of Olney congregant going to Israel this year?
 
The Senter Israel Scholarship is designed to provide financial support to students through age 25 who will be attending an accredited Israel trip this year. Scholarship decisions are based on need and merit. This $500 Scholarship is intended to partially subsidize program related expenses.
 
To apply for this Scholarship please complete the application here and submit the form by April 30, 2018 to info@bnaishalomofolney.org or fax to (301) 774-3992.  For further information contact Monica Blum at (301) 774-0879.

BSO Groups:

Religious School                                         
Click here  for the Updated Religious School Announcements.
Click here to see photos from our Yom HaAtzmaut Event.



Early Childhood School 



Registration is now open for the 2018-2019 school year.
Click here for more information about our program options!

Challah Sales from Rosendorff Bakery in Baltimore - Click here

Join BSO for Tot Hag: PJ Shavuot! - May 19, 2018, 6:00 pm
 Shavuot is the Jewish holiday which celebrates the giving of the Torah at Mount Sinai. Traditionally, we eat dairy foods and spend the entire night learning together. Join us for a "Taste of Shavuot" for families with children ages 0-8.
Free dinner for the family!
Story time!
Special Hands-On Percussion Experience as we recreate standing at Mt. Sinai!
Music!
Special Dairy Dessert!
 
Register here.

Camp Volunteer Help Needed
The ECS is seeking teens to help us with our Summer Camp. Interested teens should complete a short application form here . Teens who are selected to volunteer are required to attend a training for teen volunteers on the evening of Tuesday, June 5 at 7:30 pm. Teens who work at the camp will be eligible to receive SSL hours.
Due to licensing restrictions, teens must be 13 years old by July 1 to volunteer with the ECS.


BSO Youth

Bonim:
Click here to see pictures from Bonim's Matzah Factory experience 
with Jcrafts!               

Machar:
 

Click here to see more pictures from Machar's Havdalah Candle Making
with Jcrafts! 

Join a Youth Group Here
 



Upcoming Regional Events
For the 6-12th grade families: On April 22nd, Seaboard USY will be hosting its annual Kings Dominion Day!! Click here for the flyer.  It is such a fun day to reconnect with friends and meet new friends. Transportation will be provided! 
The deadline to register has been extended! If your child would still like to attend, please fill out the form that is on the flyer. Then, you need to email Sasha Bloch because you will not be able to complete the registration form online.  
 
Also, we are having an upcoming Shabbaton!! 
Who: 8-12th graders
When: May 11th-May 12th 
What: A chance to have a shabbat experience with a bunch of teens! 
Where: Bnai Shalom of Olney
How much: $10
 
Here is how you RSVP! Please RSVP by May 1st! 
https://docs.google.com/forms/d/e/1FAIpQLSc8VxDO36aWZQrXaTOWsFVLRlfIia9-5lY-dn2CqI21ty8p0A/viewform
 
 
For the 8-12th grade families: On Memorial Day Weekend, May 25-28th, we will be having our annual spring convention! Registration is open! Click here for the flyer.

Contact Sarah Dickstein if you have any additional questions or concerns.

Sisterhood  
Click here to Join Sisterhood
Click here to read a Welcome Letter from Sisterhood's Co-Presidents.

Sisterhood Meeting May 6
Women of BSO Community Town Hall
Sunday, May 6, at 9:00 am
BSO - Social Hall A
Drinks and snacks will be served. 
 
Please join us to discuss women's programming at BSO. We are asking ALL women of the BSO Community to engage in a discussion about the future of your Sisterhood - whether it should continue to exist in its current form or how it should be changed - as well as the future of BSO programming for all women in general.  Without your input, women's programming and Sisterhood, potentially, will not exist in the upcoming years at BSO. This meeting is a must for anyone who wants to see women's programming continue at BSO.  Please RSVP via email to  Tara Goldstein at or (301) 260-0377 by Thursday, May 3rd, if you plan to attend. Also, if you would like to speak or have a topic you want discussed, please let Tara know. We hope to see ALL of the women of the BSO community at this meeting!

Seaboard Region's Spring Retreat 
Registration is now open - click here for more information.



Our current book is The Girl with Seven Names by Hyeon Seo Lee.


We will gather on Sunday, May 6th at 11:00 a.m. at Nancy Katcoff's house. Please RSVP here. Everyone will be able to attend the Women's Town Hall meeting at 9:00 a.m. at BSO and then come to Nancy's at 11:00 a.m.

Looking ahead to our next books:
The Girl Who Wrote in Silk by Kelli Estes
Washing the Dead by Michelle Brafman
We Were the Lucky Ones by Georgia Hunter
A House Without Windows by Nadia Hashimi

Torah Fund:
Click here to contact Marian Apple or here to contact Gail Goldfarb


Men's Club
Ushers are needed - Sign up here to be an Usher or a Greeter - there are many positions that still need to be filled - please sign up today!


HAZAK
                             
Upcoming Events:                                                                                                      
Game Day - May 15th from 1:00 p.m. - 3:00 p.m.
Rummikub, Scrabble, Backgamen, TriBond, Trivial Pursuit, Dominoes and more.
Snacks will be provided.
RSVPs appreciated by May 10

Annual Dinner / Open Mike and Movie Night - Sunday, June 3rd at 5:00 p.m. 
Stay tuned for more information.

To RSVP, to volunteer or for any questions, contact: Naomi Kline (nbk165@comcast.net) or Sandy Kusselson (301) 384-1252.

Click here for information on Camp Hazak 2018. 


Inclusion Corner
To be Jewish is to cherish every life. At BSO, we are striving to create a community in which every person can learn, pray, find friends and feel a sense of belonging. It is our duty to dispel prejudices and misconceptions that contribute to isolation.

The Inclusion Committee is looking to develop a list of sign language interpreters for certain BSO services, presentations and congregational meetings. If you, or someone you know, is fluent in American Sign Language and would like to be on this list, please contact Heidi Cohen.

Did you know that BSO has listening devices and large print siddurs? If you need both or either of these items to help you make services more meaningful, please ask the usher when you arrive at a service.

We would like to thank all those who completed the Inclusion Survey which was administered from December through February. We have compiled the results and summarized them here. The Inclusion Committee is continuing to meet with BSO leaders to discuss, and begin to address, the issues that were raised.

The Inclusion Committee will be meeting right after minyan on the 2nd Wednesday of every month. If you would like to join this committee, or learn more about the committee, please let us know. We would love to talk to you.

Always,
Heidi, Wendy and Steve
 

General BSO Information:

 BSO Recycles!
 

As part of the County's SORRT business recycling program, we are committed to helping businesses and non-profits increase recycling efforts on-site with the goal of diverting 70% of recyclables from entering landfills and incinerators by 2020.

Your efforts to increase common area recycling at B'nai Shalom of Olney play a pivotal role in helping shape culture and habits within the County from a society of waste to one of stewardship for the environment. To assist with our efforts to enhance our on-site recycling program, please utilize the brand new blue recycle bins designated for all recyclables other than paper (plastic cup and plates, etc.) in the Social Hall the next time you are at BSO. Special thanks to Lisa Ratta-Shoshan for spearheading this program!

BSO App

Download the free app today here.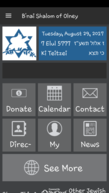 BSO now has a mobile app for members to connect with our synagogue with your very own iOS (iPhone) and Android (Google) mobile app.

The app provides all of our BSO online website content with the quick click of an app icon. From membership directories, contacting the shul or making donations - this mobile app will help you stay in touch with the shul and more!                                   


Social Action:

Interfaith Works Women's Center: Women's Homeless Shelter


A HUGE THANK YOU to Martha Witebsky, Sumner Katz and the Singer family for organizing, cooking and serving dinner this past Wednesday to the homeless women of Interfaith Works' Women's Shelter!  On the third Wednesday of each month, BSO cooks and serves dinner to 35 homeless women who stay at the Rockville-based shelter (iworksmc.org). We provide a hot dinner of main dishes, sides, dessert and fruit. It is a wonderful place where the women are kind and always appreciative. We need volunteers to cook and serve dinner on June 20 and August 15.  Please contact Meredith Singer or (301) 792-5509 to volunteer.  SSL hours for all students.


ISRAEL BONDS                                        
An investment in Israel bonds is your connection to the Israel of storied history, stunning natural beauty and cultural, historic and spiritual significance. 
Terms and features can be found here.
Please be sure to give BSO credit when buying Israel bonds online.
Thank you!

FUNDRAISING FOR BSO - Amazon Smile...
Always start at smile.amazon.com, and Amazon will 
donate 0.5% of the price of your eligible AmazonSmile purchases.  
Thank you for supporting B'nai Shalom of Olney & Early Childhood School.  

Volunteers & Sponsorship:
Thank you to those who have extended helping hands throughout BSO in
various ways!  You are most appreciated!            



Many Thanks to our Sisterhood Weekend Volunteers
Barbara Kornrich
Helene Rosenheim
Bonnie Schneider
Barbara Schwarz
Lisa Segal
Susie Sorrels
  
Friday's Oneg Sponsorship: Sisterhood 
Saturday's Kiddush Sponsorship:  Allan and Judy Freedman, in honor of their grandson, Lucas', Bar Mitzvah

Oneg/Kiddush Sponsorships: BSO families are also encouraged to sponsor or help sponsor our onegim and/or kiddushim as a way of celebrating our many life-cycle events – birthdays, anniversaries, engagements, weddings, birth of children or grandchildren, or many other joyous events!  All families will be recognized for helping to sponsor an oneg or kiddush.  For more catering information, contact Helene Rosenheim.

Schedule of Services:

Friday, April 20
6:45 a.m. - Minyan
11:00 a.m. - Funeral Service for Jason Smith
5:45 p.m. - Friday Night Lights
7:30 p.m. - Shabbat Service
7:32 p.m. - Candle Lighting

Saturday, April 21
9:15 a.m. - Shabbat Morning Service/Bar Mitzvah of Lucas Walters

Sunday, April 22
9:00 a.m. - Minyan

Monday - Thursday
7:30 p.m. - Minyan


WEEKLY MINYANIM & YAHRZEIT REMINDERS:
Please support our weekday minyanim on Sundays at 9:00 a.m., weeknights at 7:30 p.m., and Fridays at 6:45 a.m.
If you would like to have a Sunday evening minyan, please contact Larry Fishbein. 
   
Congregants are saying kaddish, and any Jewish person 13 and older will count in the minyan. It's a mitzvah!
 
Yahrzeits for this week are as follows, observed beginning with Ma'ariv the night prior: 

Friday, 4/20/2018
Sidney Lubin, father of Charles Lubin

Saturday, 4/21/2018
Herbert Katz, brother of Sumner Katz
Nachman Burdett, grandfather of Carol Barsky

Sunday, 4/22/2018
Nathan Turkewitz, grandfather of Alan Gordon
Sidney Snyder, father of Stuart Snyder
Vivian Loube, wife of Milton Loube & mother of Sharon Zack

Monday, 4/23/2018
Herman Bradus, father of Debra Reese
Janet Greenberg, mother of Gregg Greenberg

Tuesday, 4/24/2018
Sarah Berlin, remembered by Florence Berlin
Mildred Bonnett, mother of Gary Bonnett

Wednesday, 4/25/2018
Larry Wolf, father of Wendy Levine
Jack Gordon, father of Paula Silberberg
Boris Field, father of Noreen Friedman
Art Schoengold, husband of Janet Schoengold

Thursday, 4/26/2018
Rose Walters, mother of Laura Sussan
Don Gould, father of Marla Orenstein
​​​​​​​Cynthia Dorn, mother of Linda Reba

                    


CLICK HERE TO MAKE A PERSONAL DONATION TO B'NAI SHALOM OF OLNEY  
Contributions will help us expand the activities and services we offer to our congregants as well as to the community. 
B'nai Shalom of Olney
18401 Burtfield Drive
Olney, MD 20832
Wed, April 25 2018
10 Iyyar 5778
BSO Fund Descriptions
Chai Circle: The purpose of this fund is to provide the financial and moral support needed to continue BSO's mission.
The Building Fund: The purpose of this fund is to help keep BSO beautiful and well maintained. It is used for anything and everything "building".
Cantor's Music Fund: The purpose of this fund is for any and every music need at Hazzan Geller's discretion.
Rabbi's Discretionary Fund: The purpose of this fund is to give various scholarships to those in need and to help needy families in the BSO community and greater Olney community for anything and everything Rabbi Rosenberg feels is important.
General Endowment Fund: The purpose of this fund is to broaden the base of support towards BSO's annual operational needs and help serve as a financial underpinning for the religious, charitable and educational needs over many years at BSO.
Alex P. Kovalsky Endowment Fund: The purpose of this fund is to provide financial support to BSO member families towards participation in programs, events and services that are primarily driven to socialize, educate and engage individuals with "special needs".
Early Childhood School Fund: The purpose of this fund is to provide supplemental financial support for school programming.
Religious School Fund: The purpose of this fund is to provide supplemental financial support for Religious School programming.
Louis and Miriam Brown Memorial Fund: The purpose of this fund is to provide financial support for maintenance and acquiring when required "ritual" items including but not limited to: Purchase, repair, and/or cleaning of Torahs and associated items, megillot scrolls, mezzuzot, including parchments, Kiddush cups, Havdalah items, candle sticks, menorahs, tallit, challah covers, bimah covers, siddurim, chumashim, megillot books, lulavs, and etrogs for congregational use.
Kiddush Fund: To provide financial support towards weekly Onegim and Kiddushim to enhance the Shabbat and holiday experience for our community.
Scholar-in-Residence Fund: This fund provides resources to bring in quality outside scholars and speakers to B'nai Shalom of Olney to enhance our community's Jewish learning.
ate this content.
Wed, April 25 2018 10 Iyyar 5778