Weekly Shabbat Announcements
Saturday, August 18, 2018
7 Elul 5778

Upcoming Activities and Events: 
BSO Events Calendar        

High Holy Day Information



The High Holy Days are just a few weeks away! We hope that you will be able to join us this year for services at B'nai Shalom of Olney and look forward to sharing in all that 5779 has to offer.

If you haven't already done so, please use this link to access the online High Holy Day order form. You can use the online system to order tickets for all services; register for babysitting; place a memorial in the Yizkor book; order Lulav and Etrog sets; participate in the parking space raffle; order Sisterhood-made kugels; and make your 5779 Chai Circle donation.

Choose the service that best meets your needs. Regardless of the service you plan to attend, we ask that you sign-up on-line, or by using our High Holy Day forms, so that we can maintain a record for security purposes.

* Main Service - This service will be led by Rabbi Dina Rosenberg and Hazzan Sara Geller. (Front, middle and rear seat tickets available.)

* Tot Yom Tov - This service is specifically designed for families with children ages 6 and younger. (All adults must have a ticket, children are free but should still be signed up.)

* Tot Hag - Offered 2nd Day of Rosh Hashanah only. This is a complimentary service, open to members and non-members. It is specifically designed for children ages 6 and younger.

* Student Services - Services for students from Kindergarten through 12th grade, designed specifically for students based on age groups. There is no fee for members and a minimal fee for non-members.

Please remember that seats are assigned on a first come, first served basis, so we encourage everyone to submit their forms as early as possible! All efforts will be made to accommodate congregants based on their requests and any special needs.

All are encouraged to volunteer to help Usher. Click here to select your desired Usher time slot today!

If you have any questions or require assistance with the sign-up process, please feel free to call the synagogue office at 301.774.0879, and someone will be able to help you.
​
BSO Calendars
To advertise your business and/or send a New Year's wish to your family & friends in our upcoming BSO custom calendar, featuring all of the Jewish holidays and BSO synagogue events for you to have at your fingertips this coming year, please click here.

Also, please send in your photos of anything BSO related over the past year to be included in the calendar. This year, we will be handing out 12 month calendars filled with all things BSO, and we would love to showcase you!
 
Submit photos to Andrea Keller.



Rosh Hashanah Greetings
 
Sending Rosh Hashanah Greetings is a heartfelt way to emphasize the Jewish unity that lies at the core of the High Holy Days and to create meaningful connections within our own community at the same time. By participating in this special project, you can have greeting cards and apples & honey delivered to your friends and family in time for Rosh Hashanah.
 
Log in at https://happyroshhashanah.com. 
If you haven't received your log in information, contact us at newyear@bnaishalomofolney.org

Sunflower Bakery Ordering for Rosh Hashanah
The Rosh Hashanah menu is now up! Items are available August 26th - September 14th. 
Please see flyer here for menu items and click here to order. 
Order Deadline: Monday, September 3
Pickup at BSO on Thursday, September 6th, anytime between 12:00 p.m. - 8:00 p.m.


Frederick Keys Game & BSO Tailgate



Special thanks to Marc Smith & Ron Schneider for cooking and organizing this outing! Everyone had a great time, despite the rain!


Kindertransport - September 16, 2018 at 2:00 p.m. - Last Call for Tickets!


BSO Sisterhood presents an outing for our congregation:
Kindertransport, a play at the Gaithersburg Arts Barn (starring our own Mara Bayewitz & Leah Packer as mother and daughter), tells the story of the Jewish children who were evacuated from Germany and German controlled territories over a nine month period from December 1938 through September 1939.

The price is $18.00 a person and at this time additional tickets are available. Checks payable to BSO and either put in the Sisterhood box, mailed to BSO, or directly to Vickie on the day of the event.  We will meet at the Barn around 1:15 p.m.  The doors for seating open around 1:30 p.m. Vickie will have all the tickets.  If anyone is running late for the 2pm show, call or text Vickie at 240-506-6732 and she will leave the tickets under your name.

Any questions contact Vickie Smith.

Register today!
October 6, 2018 - Our 4th Annual Guitars Under The Stars
Join us for drinks, desserts, marshmallows and more!
Featuring the music of Kenny Day.
Please plan to join us for this BSO favorite! Click here to register!  



ISO: Glass Jars!
The ECS uses baby food, jam, and other glass jars for various purposes throughout the school year, including for storage of materials and paints. If you have any jars you can donate, please bring them to the ECS office. Thanks for your help!

BSO Groups:

Religious School    

Have you registered?  
Click here to register.
Click here for information on fees, tuition and new sibling registration discount for 2018-19/5778-5779.



Happy Birthday World!!  
Welcome 5779 !!
יום הולדת שמח      
Join Rabbi Kim Blumenthal for a Birthday Party in celebration of the New Year!
Sunday, September 9, 2018
10:00 a.m. – 11:30 a.m.
Celebrate with your BSO friends with games, crafts, and birthday treats!
Party is for children and parents in grades Kindergarten thru 5th grades. 
Younger siblings welcome!
 RSVP:  brenda.bergstein@bnaishalomofolney.org or call 301-774-9323

New ECS Family Membership
For members with a child enrolled in ECS, or an outgoing ECS child registered for Kindergarten by July 14th, we present a new discounted membership rate of $1,500  yearly!  This rate will apply while you have a child enrolled in the ECS or K - 2nd in the BSO Religious School, for up to 7 years. Click here for more information or feel free to contact the BSO office.
  
Teachers Needed
The BSO religious school is looking for qualified and spirited teachers for grades 1,2, and 4, as well as facilitators for the students High Holy Day services.  If you know of anyone who may be interested in either of the above, please have them phone the RS office at 301-774-9323.
                                  
Early Childhood School 



Registration is now open for the 2018-2019 school year.
Click here for more information about our program options!

Challah Sales from Rosendorff Bakery in Baltimore - Click here

BSO Youth
Join a Youth Group Here
 


 
Sisterhood
Sisterhood is changing!  To what?...That's where you come in.  We need everyone's input and contributions to have successful women's programming during the upcoming year. Sisterhood is starting over with a blank slate. This is your opportunity to make our women's group what you want it to be. Please click here to continue reading.





Looking ahead to our next books:
Washing the Dead by Michelle Brafman - Sept. 30 at Joan Stone's home
We Were the Lucky Ones by Georgia Hunter - Nov. 4 at Sunny Grunder's home
A House Without Windows by Nadia Hashimi - Jan. 6 at Steffi Parizer's home
Thou Shalt Innovate:  How Israeli Ingenuity Repairs the World by Avi Jorish - March 3 at Linda Krass' home (we can order the book for $18 each if there are 10 copies ordered)
May 5 - to be determined at Eileen Oslick's home

Torah Fund:
Click here to contact Marian Apple or here to contact Gail Goldfarb.

Men's Club
Ushers are Needed - Sign up here to be an Usher  for the High Holy Days.
There are many positions that still need to be filled - please sign up today!

HAZAK
Stayed tuned for upcoming events happening this fall!

Inclusion Corner
The Inclusion Committee is looking to develop a list of sign language interpreters for certain BSO services, presentations and congregational meetings. If you, or someone you know, is fluent in American Sign Language and would like to be on this list, please contact Heidi Cohen.

The Inclusion Committee will be meeting right after minyan on the 2nd Wednesday of every month. If you would like to join this committee, or learn more about the committee, please let us know. We would love to talk to you.

Call For Judaic Artists
Professional or wannabe  to meet and discuss organizing a DC metro Judaic arts guild to exhibit and support our efforts to educate our Jewish community about the Jewish cultural arts.  
Wednesday, August 29 at 8:00 p.m. at Tikvat Israel Congregation  (2200 Baltimore Rd, Rockville, MD 20851). Contact Avrum Ashery at asherydesign@verizon.net with any questions.
 
General BSO Information:

 BSO Recycles!
 

As part of the County's SORRT business recycling program, we are committed to helping businesses and non-profits increase recycling efforts on-site with the goal of diverting 70% of recyclables from entering landfills and incinerators by 2020.

Your efforts to increase common area recycling at B'nai Shalom of Olney play a pivotal role in helping shape culture and habits within the County from a society of waste to one of stewardship for the environment. To assist with our efforts to enhance our on-site recycling program, please utilize the brand new blue recycle bins designated for all recyclables other than paper (plastic cup and plates, etc.) in the Social Hall the next time you are at BSO. Special thanks to Lisa Ratta-Shoshan for spearheading this program!

BSO App

Download the free app today here.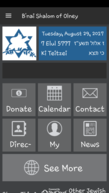 BSO now has a mobile app for members to connect with our synagogue with your very own iOS (iPhone) and Android (Google) mobile app.

The app provides all of our BSO online website content with the quick click of an app icon. From membership directories, contacting the shul or making donations - this mobile app will help you stay in touch with the shul and more!                                   

Social Action:
Interfaith Works Women's Center: Women's Homeless Shelter


On August 15, BSO cooked and served dinner to the women of the Interfaith Works Women's Shelter.  Our thanks go to Judy Teitelbaum, Melissa and Addie Griffith, Martha Witebsky, Sumner Katz and the Singer Family for cooking and serving that evening!  On the 3rd Wednesday of each month, BSO cooks and serves dinner to 35 homeless women at the Shelter.  We provide a hot dinner of main dishes, sides, dessert, fruit and drinks.  It is a safe, wonderful place where the women are always kind and appreciative.  We need volunteers to cook/serve on: September 19, October 17, November 21 and December 19.  For Sept. 19, food can be prepared in advance and dropped off at the Shelter; staff will serve. PLEASE consider taking part in this mitzvah. SSL hours for all eligible students! Please contact Meredith Singer or 301-792-5509 to volunteer.  SSL hours for all students.

ISRAEL BONDS                                        
An investment in Israel Bonds is your connection to the Israel of storied history, stunning natural beauty and cultural, historic and spiritual significance. 
Terms and features can be found here.
Please be sure to give BSO credit when buying Israel bonds online.
Thank you!

FUNDRAISING FOR BSO - Amazon Smile...
Always start at smile.amazon.com, and Amazon will 
donate 0.5% of the price of your eligible AmazonSmile purchases.  
Thank you for supporting B'nai Shalom of Olney & Early Childhood School.  

Volunteers & Sponsorship:
Thank you to those who have extended helping hands throughout BSO in
various ways!  You are most appreciated!            



Naomi Kline
Barbara Kornrich
Bonnie Schneider
Shamira Shallom
Helene Rosenheim

Friday Oneg and Saturday Kiddush are Sponsored by B'nai Shalom of Olney.

Oneg/Kiddush Sponsorships: BSO families are encouraged to sponsor or help sponsor our onegim and/or kiddushim as a way of celebrating our many life-cycle events – birthdays, anniversaries, engagements, weddings, birth of children or grandchildren, or many other joyous events! Please contact the synagogue office for sponsorship options. All families will be recognized for helping to sponsor an oneg or kiddush.   

Schedule of Services:

Friday, August 17
6:45 a.m. - Minyan
7:30 p.m. - Shabbat Service
7:43 p.m. - Candle Lighting

Saturday, August 18
9:15 a.m. -  Shabbat Morning Service 

Sunday, August 19
9:00 a.m. - Minyan

Monday - Thursday
7:30 p.m. - Minyan


WEEKLY MINYANIM & YAHRZEIT REMINDERS:
Please support our weekday minyanim on Sundays at 9:00 a.m., weeknights at 7:30 p.m., and Fridays at 6:45 a.m.
If you would like to have a Sunday evening minyan, please contact Larry Fishbein. 
   
Congregants are saying kaddish, and any Jewish person 13 and older will count in the minyan. It's a mitzvah!
 
Yahrzeits for this week are as follows, observed beginning with Ma'ariv the night prior:                                         
Friday, 8/17/2018
Jacqueline Meyers, mother of Robin Greenblat; mother-in-law of David Greenblat; grandmother of Allison Greenblat and Jacob Greenblat
Edythe Binder, mother of Marian Sacks

Saturday, 8/18/2018
Julius Berg, uncle of Roberta Greif

Monday, 8/20/2018
Eva Gary, mother of Howard Gary
Jack Kirsh, father of Nancy Katcoff
Lillian Pollack, mother of David Pollack
Benjamin Aaron, father of Edward Aaron

Tuesday, 8/21/2018
Ben Barsky, father of Richard Barsky
Edith Brochstein, mother of Naomi Kline
Jay Michael Kauffman, brother of Philip Kauffman

Wednesday, 8/22/2018
Charlotte Doris Lomke, mother of Mitchell Lomke
Leah P. Leavey, mother of Stephen Leavey
David Leibowitz, father of Louis Leibowitz

Thursday, 8/23/2018              
Ethel Geffen, mother of Hazzan Sara Geller
Ruth Lukoff, mother of Cheryl Weisel
Louis Pollack, father of David Pollack
Estelle Snyder, mother of Stuart Snyder
William Goldman, father of Jay Richard Goldman

                    


CLICK HERE TO MAKE A PERSONAL DONATION TO B'NAI SHALOM OF OLNEY  
Contributions will help us expand the activities and services we offer to our congregants as well as to the community. 
B'nai Shalom of Olney
18401 Burtfield Drive
Olney, MD 20832
Sat, August 18 2018
7 Elul 5778
BSO Fund Descriptions
Chai Circle: The purpose of this fund is to provide the financial and moral support needed to continue BSO's mission.
The Building Fund: The purpose of this fund is to help keep BSO beautiful and well maintained. It is used for anything and everything "building".
Cantor's Music Fund: The purpose of this fund is for any and every music need at Hazzan Geller's discretion.
Rabbi's Discretionary Fund: The purpose of this fund is to give various scholarships to those in need and to help needy families in the BSO community and greater Olney community for anything and everything Rabbi Rosenberg feels is important.
General Endowment Fund: The purpose of this fund is to broaden the base of support towards BSO's annual operational needs and help serve as a financial underpinning for the religious, charitable and educational needs over many years at BSO.
Alex P. Kovalsky Endowment Fund: The purpose of this fund is to provide financial support to BSO member families towards participation in programs, events and services that are primarily driven to socialize, educate and engage individuals with "special needs".
Early Childhood School Fund: The purpose of this fund is to provide supplemental financial support for school programming.
Religious School Fund: The purpose of this fund is to provide supplemental financial support for Religious School programming.
Louis and Miriam Brown Memorial Fund: The purpose of this fund is to provide financial support for maintenance and acquiring when required "ritual" items including but not limited to: Purchase, repair, and/or cleaning of Torahs and associated items, megillot scrolls, mezzuzot, including parchments, Kiddush cups, Havdalah items, candle sticks, menorahs, tallit, challah covers, bimah covers, siddurim, chumashim, megillot books, lulavs, and etrogs for congregational use.
Kiddush Fund: To provide financial support towards weekly Onegim and Kiddushim to enhance the Shabbat and holiday experience for our community.
Scholar-in-Residence Fund: This fund provides resources to bring in quality outside scholars and speakers to B'nai Shalom of Olney to enhance our community's Jewish learning.
ate this content.
Sat, August 18 2018 7 Elul 5778