Weekly Shabbat Announcements
Saturday, October 13, 2018
4 Cheshvan 5779

Register NOW for These Upcoming Events
Shabbat Walk - Saturday, October 13, 4:00 p.m.
Celebrate Shabbat by taking a walk amid nature and socializing with BSO friends.  Slow it all down, see the sights, hear the sounds and notice new things.  

Tots through 2nd grade are welcome!  We will meet at Olney Mills Pool (3611 Briars Road, Brookeville), and the walk will end at the playground with a snack.
Sisterhood Planning Meeting
Sunday, October 14, 9:30am
Are you looking for a welcoming, warm, and meaningful group of women engaged in activities meant to enrich our lives personally and collectively through Jewish connections?  Please join us for our first meeting of the year on October 14th at 9:30 a.m at BSO, as we plan for an amazing year of Sisterhood that involves YOU! Refreshments will be served.
Thinking Jewishly
Thursday, October 18, 1:00p.m
Join us for our "Thinking Jewishly" group discussion with Rabbi Dina on Thursday, October 18 from 1:00 p.m. until 2:00 p.m. in the BSO Library.

Mark the series on your calendar!  October 25, November 1, 8, 15, December 6, 13, 20, 27
BSO Groups:


Join the BSO Young Professionals Meetup Group!
We are very excited to have a new way of networking with other Jewish Young Professionals in Olney and the surrounding area.  Please join our Meetup Group by clicking here . 
Save the date for our next Young Professionals Event!
Monday Night Madness- November 19th at 7:00 p.m.

Religious School    
Dancing in the halls…outdoor obstacle course…toothpaste contests…
These are just a few of the highlights from our fabulous first day of classes for the 2018-2019 school year.

Parents, we have sent out the Chadashot (parents newsletter) from the Religious School and the teacher/staff team.  Please let Brenda know if you did not receive a copy so that the database can be corrected.

Upcoming Events:
Thursday, October 18, 7:45 pm - Religious School Education Committee Meeting
Sunday, October 28, 8:00 am, BSO RS Yard Sale - click here to reserve your table
Wednesday, October 31, No Class Scheduled

Early Childhood School 



Registration is open for the 2018-2019 school year.
Click here for more information about our program options!

Challah Sales from Rosendorff Bakery in Baltimore - Click here

BSO Youth Upcoming Events
Kadima Kallah 2018


October 26-28 at Capital Camps in Waynesboro, PA
Registration Deadline is October 11th!

Fall USY Convention


Join over 200 Jewish 9th-12th graders from DC, MD, VA and NC for a beautiful Shabbat weekend filled with new friends and non-stop fun at the Capital Retreat Center!
November 16-18, 2018
Register online here


Join a Youth Group Here
 


Sisterhood
Sisterhood is changing!  To what?...That's where you come in.  We need everyone's input and contributions to have successful women's programming during the upcoming year. Sisterhood is starting over with a blank slate. This is your opportunity to make our women's group what you want it to be. Please click here to continue reading.




Looking ahead to our next books:
We Were the Lucky Ones by Georgia Hunter - Nov. 4 at Sunny Grunder's home
A House Without Windows by Nadia Hashimi - Jan. 6 at Steffi Parizer's home
Thou Shalt Innovate:  How Israeli Ingenuity Repairs the World by Avi Jorish - March 3 at Linda Krass' home (we can order the book for $18 each if there are 10 copies ordered)
May 5 - to be determined at Eileen Oslick's home

Torah Fund
Click here to contact Marian Apple or here to contact Gail Goldfarb.

Men's Club
Ushers are Needed - Sign up here to be an Usher.

HAZAK
SUNDAY, OCT. 28TH - 10:15 a.m. Annual breakfast with music by "Double Treble."  Click here to register

Inclusion Corner
The Inclusion Committee is looking to develop a list of sign language interpreters for certain BSO services, presentations and congregational meetings. If you, or someone you know, is fluent in American Sign Language and would like to be on this list, please contact Heidi Cohen.

The Inclusion Committee will be meeting right after minyan on the 2nd Wednesday of every month. If you would like to join this committee, or learn more about the committee, please let us know. We would love to talk to you.
 
General BSO Information:

BSO App
Download the free app today here.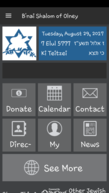 BSO has a mobile app for members. Connect with our synagogue with your very own iOS (iPhone) and Android (Google) mobile app.

The app provides all of our BSO online website content with the quick click of an app icon. From membership directories, contacting the shul or making donations - this mobile app will help you stay in touch with the shul and more!                                   

Social Action:
Interfaith Works Women's Center: Women's Homeless Shelter
Each month, BSO volunteers cook and serve dinner to 35 homeless women who temporarily reside at the Interfaith Works Women's Center on Taft Court in Rockville.  I am currently looking for volunteers to cook and serve on our behalf on November 21 and January 16.  The time is always 6:15-7:15 pm at the shelter.  SSL hours for all students who help!
 
Additionally, Interfaith Works has asked for donations of travel size personal care products since they are running low on supplies. They provide up to 900 showers each month for men, women and children in need, and they need soaps/shampoos/etc.  Thank You to Tami Abramowitz and the Singer Family for their donations.  You can see their request here .  If you order directly from their Amazon registry, the donations will be shipped directly to the Shelter. Or, you may drop off donations with Meredith Singer.
 
Contact Meredith Singer , or 301-792-5509 for information/to volunteer.  

ISRAEL BONDS                                        
An investment in Israel Bonds is your connection to the Israel of storied history, stunning natural beauty and cultural, historic and spiritual significance. 
Terms and features can be found here.
Please be sure to give BSO credit when buying Israel bonds online.
Thank you!

FUNDRAISING FOR BSO - Amazon Smile...
Always start at smile.amazon.com, and Amazon will donate
0.5% of the price of your eligible AmazonSmile purchases.  
Thank you for supporting B'nai Shalom of Olney & Early Childhood School.  

Volunteers & Sponsorship:
Thank you to those who have extended helping hands throughout BSO in
various ways!  You are most appreciated!            



Friday Oneg  Sponsored by B'nai Shalom of Olney.
Saturday Kiddush sponsored by Jeff Kornspan in honor of Shira Oler's birthday.

Oneg/Kiddush Sponsorships: BSO families are encouraged to sponsor or help sponsor our onegim and/or kiddushim as a way of celebrating our many life-cycle events – birthdays, anniversaries, engagements, weddings, birth of children or grandchildren, or many other joyous events! Please contact the synagogue office for sponsorship options. All families will be recognized for helping to sponsor an oneg or kiddush.   

Schedule of Services:

Friday, October 12
6:45 a.m. - Minyan
6:16 p.m. - Candle Lighting
7:30 p.m. - Shabbat Services

Saturday, October 13
9:15 a.m. - Shabbat Services 

Sunday, October 14
9:00 a.m. - Minyan

Monday - Thursday
7:30 p.m. - Minyan

WEEKLY MINYANIM & YAHRZEIT REMINDERS:
Please support our weekday minyanim on Sundays at 9:00 a.m., weeknights at 7:30 p.m., and Fridays at 6:45 a.m.
If you would like to have a Sunday evening minyan, please contact Larry Fishbein. 
   
Congregants are saying kaddish, and any Jewish person 13 and older will count in the minyan. It's a mitzvah!
 
Yahrzeits for this week are as follows, observed beginning with Ma'ariv the night prior:  
                                       
Friday, 10/12/18
Herbert Cohen, husband of Bernice Cohen
June Gross, mother of Ronald Gross
Henry Selfon, father of Ilene Hirshenson
Monday, 10/15/18
Jane Frank, mother of David Frank
Arthur Spanier, father of Rebecca Fishman & Adam Spanier
Alfred Heiman, grandfather of Jeremy Rachlin
Pearl Greif, mother-in-law of Roberta Greif
Edith Honikman Burka, mother of Diane Kahanov
Thea Sonnenmark, mother of Edie Blitzstein
Michael Shure, father of Richard Shure
Betty Glassman, sister of Alvin Temin
Tuesday, 10/16/18
Flossie Stern, grandmother of Marc Sheinberg
Rose Berg, mother of Marian Apple
Thursday, 10/18/18
Lee Rosen, father of Jennifer Lichter
Samuel Levine, remembered by Marvin Levine



CLICK HERE TO MAKE A PERSONAL DONATION TO B'NAI SHALOM OF OLNEY  
Contributions will help us expand the activities and services we offer to our congregants as well as to the community. 
B'nai Shalom of Olney
18401 Burtfield Drive
Olney, MD 20832
Mon, October 15 2018
6 Cheshvan 5779
BSO Fund Descriptions
Chai Circle: The purpose of this fund is to provide the financial and moral support needed to continue BSO's mission.
The Building Fund: The purpose of this fund is to help keep BSO beautiful and well maintained. It is used for anything and everything "building".
Cantor's Music Fund: The purpose of this fund is for any and every music need at Hazzan Geller's discretion.
Rabbi's Discretionary Fund: The purpose of this fund is to give various scholarships to those in need and to help needy families in the BSO community and greater Olney community for anything and everything Rabbi Rosenberg feels is important.
General Endowment Fund: The purpose of this fund is to broaden the base of support towards BSO's annual operational needs and help serve as a financial underpinning for the religious, charitable and educational needs over many years at BSO.
Alex P. Kovalsky Endowment Fund: The purpose of this fund is to provide financial support to BSO member families towards participation in programs, events and services that are primarily driven to socialize, educate and engage individuals with "special needs".
Early Childhood School Fund: The purpose of this fund is to provide supplemental financial support for school programming.
Religious School Fund: The purpose of this fund is to provide supplemental financial support for Religious School programming.
Louis and Miriam Brown Memorial Fund: The purpose of this fund is to provide financial support for maintenance and acquiring when required "ritual" items including but not limited to: Purchase, repair, and/or cleaning of Torahs and associated items, megillot scrolls, mezzuzot, including parchments, Kiddush cups, Havdalah items, candle sticks, menorahs, tallit, challah covers, bimah covers, siddurim, chumashim, megillot books, lulavs, and etrogs for congregational use.
Kiddush Fund: To provide financial support towards weekly Onegim and Kiddushim to enhance the Shabbat and holiday experience for our community.
Scholar-in-Residence Fund: This fund provides resources to bring in quality outside scholars and speakers to B'nai Shalom of Olney to enhance our community's Jewish learning.
ate this content.
Mon, October 15 2018 6 Cheshvan 5779