Weekly Shabbat Announcements
Saturday, February 24, 2018
9 Adar 5778


Purim 5778 




ECSC Silent Auction
                                     
 
The ECSC Silent Auction at the Purim Carnival is looking for items to be donated for bidding.  Do you have your own business or contacts who can help with donations?  Click here for a list of ideal items.
                                

                           
Wednesday, February 28 at 6:15 p.m.
BSO Family Purim Celebration and Full Megillah Reading 

Storytelling & Hamantashen 
Food, drinks & activities for all ages
   
 
 When a tornado rips through Olney, Dorothy and her dog, Toto, are whisked away in their house to the magical land of Shushan.

   
They follow the Yellow Brick Road toward Ahasuerus palace to meet the Wizard.  All ages are encouraged to come along on this daring adventure! 

Mac & Cheese Boxes as Groggers - No Way!?! But-Yes, it's True!
                                                

USY will be selling boxes of Mac & Cheese to use as Groggers on Wednesday, February 28, before the Megillah reading that is open to all ages! They will be $2/box or 3 for $5.
The proceeds will go to Tikun Olam - the USY Tzedukkah, and the boxes of Mac & Cheese will be donated to Olney Help after they are used.

March 1 at 9:45 a.m.
ECS Purim Costume Parade & Sing-Along
Join us for a festive Purim sing-along led by Hazzan Geller and Rabbi Dina!  Parents, grandparents, siblings, and friends are invited for singing and story telling! 
                                          

Please bring boxes of Macaroni and Cheese to use as "groggers" (noise makers) during the story-telling. Afterward, we will donate all of the boxes to the food pantry at St. Johns!

                            

March 4, 10:30 a.m.-12:30 p.m. 
Religious School Purim Carnival
(Click here for a copy of the Religious School Purim Flyer)

Enjoy DOZENS of Booths, a Moon Bounce, an Obstacle Course & More Surprises! ◾ The Men's Club will be Selling Lunch ◾ Sisterhood Hamantashen Sale ◾ Men's Club Passover Wine Tasting and Sale ◾ ECSC Silent Auction and Much, Much More!  (Parents must accompany their children.)
                                                

Tickets: Buy tickets here or by clicking the "buy tickets" icon or at the door. 50 cents each or 25 for $10.  Special Ticket passport for ages 7 and under - $8.   

   Men's Club Passover Wine Fundraiser
    

Click here to print the list/order form, or pick one up in the BSO main lobby on the credenza.  Contact Steve Leavey with questions or to place an order at: saleavey@gmail.com or call (301) 384-8928 or (301) 325-4859.

​​​​​​​               
Upcoming Activities and Events: 
BSO Events Calendar

Inclusion Shabbat - This Saturday     
                              

"The house of worship represents one place where barriers fall and we stand equal before G-D."

February is Jewish Disability Awareness and Inclusion Month.  This Saturday, BSO will be holding our Disability and Inclusion Shabbat. Please join us as we raise awareness of the special value that everyone in our congregation adds to our community. Experience a Shabbat that focuses on inclusion, accessibility and an enhanced belonging for all members.

After services we will be dedicating an accessible Mezuzah to be placed on our front door.

BSO Scholar in Residence Program - Sunday, February 25           
10:45 a.m. - 12:00 p.m. There are still a few seats available - RSVP Here!
Appropriate for high school age and above - light refreshments to be served

"What is Justice? The Nuremberg Trials and Beyond"     
Join Dr. Edna Friedberg, JTS Fellow and Historian at the United States Holocaust Memorial Museum, for an exploration of the centrality and power of a public day of reckoning, for survivors and for societies.          
                                    
            
Seats Are Going Fast!  - Click here to RSVP 
Special seating blocks have been set aside for Hazak, Sisterhood & Men's Club members. Indicate any seating preferences on the RSVP form.
                                           


Shabbat Walk and Playtime with Rabbi Rosenberg
                          Saturday, March 3 at 4:00 p.m.
Tots – 2nd grade and their families welcome! BSO will provide a sweet treat afterwards.
                                                          Sign-up here
                                           

Celebrate Shabbat by enjoying a relaxing nature walk and socializing with BSO friends; join us in this wonderful opportunity for families to slow life down a little, see the sights, hear the sounds and discover new experiences with one another.
                                             

We will be meeting at Olney Mills Pool (3611 Briars Rd, Brookeville, MD) at 4:00 pm. Let us know if you can join us, and sign up here.  Walk-ins are welcome!

Special Lecture Co-Sponsored with Chabad of Olney
                        Tuesday, March 6 at 7:00 p.m.
              "Behind Enemy Lines" Lecture - at the Olney Theatre Center
                                 Click here for more details and to register.
                                   


Adult Education: 
Click here to see our updated Adult Education webpage.

Tonight:
RSVP here for Hazzan Sara Geller's class: "Leaning Into Great Comedy" – a look at humor and feminism in the Book of Esther.  
                                      

This is a great way to explore and appreciate the Megillah as literature.  It will get you in the mood for our Purim celebration on Wednesday night, February 28.  

This Saturday:
Kiddush Konversation -  Bring your lunch to the Triple Classroom on Saturday, February 24, promptly at 12:30 p.m., for our next Kiddush Konversation. This month's speaker will be Al Temin, presenting a discussion on: "Developments Between Israel and India."

Thinking Jewishly - Thursdays at 1:00 p.m.  - Resumes on March 8
We will continue to explore contemporary issues through a Jewish lens, based           on the weekly parsha.  Together, we will "think Jewishly."

Join Arnold Sherman as he teaches the following classes:
March 8: "Could I ever be a Nazi?  Never!"                           
March 15:   "The Abandonment of the Jews"


BSO Groups:

Religious School
Click here for the Updated Religious School Announcements
Click here for the Religious School Purim Flyer
And, be sure to check out the Electronic Board in the BSO Lobby for updated photos for Religious School 2017-2018!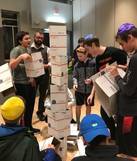 Determination and amusement for the upper school students as they learn about cooperation and strategy making while building the Tower of Babel.
                 

Early Childhood School



Registration is now open for the 2018-2019 school year.
Click here for more information about our program options!

Challah Sales from Rosendorff Bakery in Baltimore - Click here


BSO Youth

Bonim Dates:
March 10 at 7:00 p.m. - Movie Night
More details to come!



Pictures from Bonim on February 7, 2018

Machar:
 

Click here to see more pictures from Machar's Havdalah Candle Making
with Jcrafts! 

Join a Youth Group Here
 



Sisterhood  
Click here to Join Sisterhood
Click here to read a Welcome Letter from Sisterhood's Co-Presidents 



Pictures from January's Book Club meeting and presentation with the author!



Our next book is The Two-Family House: A Novel by Lynda Cohen Loigman.


We will gather on March 11 at 11:00 a.m. at Lisa Segal's home.  Please RSVP to Lisa to let her know if you will be attending:  lisa.segal@jhuapl.edu or call at (301) 384-7654.

Torah Fund:
Click here to contact Marian Apple or here to contact Gail Goldfarb


Men's Club
Ushers are needed - Sign up here to be an Usher or a Greeter - there are many positions to be filled for March - please sign up today!

Many thanks to Joshua Shallom for Ushering last week!

It's here - Men's Club Passover Wine Fundraiser! Click here for the order form, and see the top of the announcements for more details!


HAZAK

Stay Tuned for upcoming information as HAZAK returns to the Golden Days of Radio Shows on Thursday, March 15 at 8:00 p.m.                         
  

Scenes from HAZAK's Breakfast


General BSO Information:

Seeking a Volunteer with Special Skills 
BSO is seeking the assistance of someone with grant-writing skills to help develop a grant proposal for funding to increase inclusion in our Religious School. 
If you can help, please contact Tami Bonnett-Admi via email at:
(tami.bonnett-admi@bnaishalomofolney.org)

YACHAD - Building Bridges by Building Communities


Next time you stop in the BSO office, take a look at the lovely photo book capturing our members hard at work at the Daniels Home during Sukkot.

  BSO Recycles!
 

As part of the County's SORRT business recycling program, we are committed to helping businesses and non-profits increase recycling efforts on-site with the goal of diverting 70% of recyclables from entering landfills and incinerators by 2020.

Your efforts to increase common area recycling at B'nai Shalom of Olney plays a pivotal role in helping shape culture and habits within the County from a society of waste to one of stewardship for the environment. To assist with our efforts to enhance our on-site recycling program, please utilize the brand new blue recycle bins designated for all recyclables other than paper (plastic cup and plates, etc.) in the Social Hall the next time you are at BSO. Special thanks to Lisa Ratta-Shoshan for spearheading this program!

BSO App

Download the free app today here.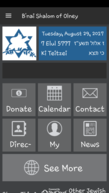 BSO now has a mobile app for members to connect with our synagogue with your very own iOS (iPhone) and Android (Google) mobile app.

The app provides all our BSO online website content with the quick click of an app icon. From membership directories, contacting the shul or making donations - this mobile app will help you stay in touch with the shul and more!                                   

Social Action:

Interfaith Works Women's Center: Women's Homeless Shelter
On the third Wednesday of each month, BSO cooks and serves dinner to 35 homeless women who stay at the Rockville-based shelter (iworksmc.org). We provide a hot dinner of main dishes, sides, dessert and fruit. A huge thank you goes to Laura and Rachel Klein, Stacey and Aidan Sachs, Nicole and Matt Rosenthal, and Kate and Emory Gun for cooking and serving dinner on February 21!  We still need volunteers to cook and serve dinner on June 20 and August 15.  Please email or call Meredith Singer, (301) 792-5509.   

ISRAEL BONDS                                        
An investment in Israel bonds is your connection to the Israel of storied history, stunning natural beauty, and cultural, historic and spiritual significance. 
Terms and features can be found here.
Please be sure to give BSO credit when buying Israel bonds online.
Thank you!

FUNDRAISING FOR BSO - Amazon Smile...
Always start at smile.amazon.com, and Amazon will 
donate 0.5% of the price of your eligible AmazonSmile purchases.  
Thank you for supporting B'nai Shalom of Olney & Early Childhood School.  

Volunteers & Sponsorship:
Thank you to those who have extended helping hands throughout BSO in
various ways!  You are most appreciated!            



Many Thanks to our Sisterhood Weekend Volunteers

Rachel Goldschmidt
Barbara Kornrich
Bonnie Schneider
Lisa Segal
Shamira Shallom

Friday's Oneg Sponsorship:  BSO Sisterhood

Saturday's Kiddush Sponsorship:  BSO Sisterhood and the families of our 5th grade students in honor of their participation in the service

Oneg/Kiddush Sponsorships: BSO families are also encouraged to sponsor or help sponsor our onegim and/or kiddushim as a way of celebrating our many life-cycle events – birthdays, anniversaries, engagements, weddings, birth of children or grandchildren, or many other joyous events!  All families will be recognized for helping to sponsor an oneg or kiddush.  For more catering information, contact Helene Rosenheim.

Schedule of Services:

Friday, February 23
6:45 a.m. - Minyan
5:36 p.m. - Candle Lighting
7:30 p.m. - Shabbat Service

Saturday, February 24
9:15 a.m. - Inclusion Shabbat Morning Service/5th Grade Shabbat Service
12:30 p.m. - Kiddush Konversation

Sunday, February 25
9:00 a.m. - Minyan
9:00 a.m. - Religious School
10:45 a.m. - Scholar in Residence Program

Monday - Thursday
7:30 p.m. - Minyan

WEEKLY MINYANIM & YAHRZEIT REMINDERS:
Please support our weekday minyanim on Sundays at 9:00 a.m., weeknights at 7:30 p.m., and Fridays at 6:45 a.m.
If you would like to have a Sunday evening minyan, please contact Larry Fishbein. 
   
Congregants are saying kaddish, and any Jewish person 13 and older will count in the minyan. It's a mitzvah!
 
Yahrzeits for this week are as follows, observed beginning with Ma'ariv the night prior: 

Friday, 2/23/2018
Anna Pariser Zerivitz, grandmother of Judy Teitelbaum
Violet Katz, mother of Sumner Katz

Saturday, 2/24/2018
Samuel Wiesenberg, father of Marcia Karsch
Irving Harnik, brother of Seymour Harnik
Malcolm Rosenthal, father of Jay Rosenthal
Malcolm Spiritos, brother of Samuel Spiritos
Issie Karsch, father of Sol Karsch

Sunday, 2/25/2018
Barney Solomon Linderman, father-in-law of Eliot Cohen
Marvin Kauffman, father of Philip Kauffman

Monday, 2/26/2018
Ruth Smetana, mother of Harold Smetana
William Blitzstein, father of David Blitzstein
Otto Heitlinger, grandfather of Anika Dzwilewski
Hilda Winer, mother of Mark Winer
Harry Zack, father of David Zack
Richard Marvin Epstein, brother of Robert Epstein
Eugene Ehrlich, father of Karen Ehrlich
Gussie Bragin, mother of Mitch Bragin

Tuesday, 2/27/2018
Rifkah Lubin, mother of Myer Lubin
Sheila Bernhard, mother of Matthew Bernhard
Mildred Schlossenberg, mother of Gail Goldfarb

Wednesday, 2/28/2018
Adele Krupitsky Linderman, mother of Eliot Cohen
Michael Cohen, father of Harry Cohen

Thursday, 3/01/2018
Fanny Levin, mother of Albert Levin
Sara Senter, grandmother of Debbie Kovalsky
Reba Penn, mother of Janice Marcus
Sara Senter, mother of Marvin Senter
Theodore Margulies, father of Shelly Silverstone
Sara Senter, grandmother of Melanie Lubin
Gilbert A. Salins, father of Joan Paregol
Reichel Dunner, aunt of Trudy Doss        
                    


CLICK HERE TO MAKE A PERSONAL DONATION TO B'NAI SHALOM OF OLNEY  
Contributions will help us expand the activities and services we offer to our congregants as well as to the community. 
B'nai Shalom of Olney
18401 Burtfield Drive
Olney, MD 20832
Fri, February 23 2018 8 Adar 5778
Fri, February 23 2018
8 Adar 5778
BSO Fund Descriptions
Chai Circle: The purpose of this fund is to provide the financial and moral support needed to continue BSO's mission.
The Building Fund: The purpose of this fund is to help keep BSO beautiful and well maintained. It is used for anything and everything "building".
Cantor's Music Fund: The purpose of this fund is for any and every music need at Hazzan Geller's discretion.
Rabbi's Discretionary Fund: The purpose of this fund is to give various scholarships to those in need and to help needy families in the BSO community and greater Olney community for anything and everything Rabbi Rosenberg feels is important.
General Endowment Fund: The purpose of this fund is to broaden the base of support towards BSO's annual operational needs and help serve as a financial underpinning for the religious, charitable and educational needs over many years at BSO.
Alex P. Kovalsky Endowment Fund: The purpose of this fund is to provide financial support to BSO member families towards participation in programs, events and services that are primarily driven to socialize, educate and engage individuals with "special needs".
Early Childhood School Fund: The purpose of this fund is to provide supplemental financial support for school programming.
Religious School Fund: The purpose of this fund is to provide supplemental financial support for Religious School programming.
Louis and Miriam Brown Memorial Fund: The purpose of this fund is to provide financial support for maintenance and acquiring when required "ritual" items including but not limited to: Purchase, repair, and/or cleaning of Torahs and associated items, megillot scrolls, mezzuzot, including parchments, Kiddush cups, Havdalah items, candle sticks, menorahs, tallit, challah covers, bimah covers, siddurim, chumashim, megillot books, lulavs, and etrogs for congregational use.
Kiddush Fund: To provide financial support towards weekly Onegim and Kiddushim to enhance the Shabbat and holiday experience for our community.
Scholar-in-Residence Fund: This fund provides resources to bring in quality outside scholars and speakers to B'nai Shalom of Olney to enhance our community's Jewish learning.
ate this content.