ABOUT OUR CLERGY

Rabbi Scott Hoffman
July 2019 -Present
rabbihoffman@bnaishalomofolney.org
Rabbi Scott Hoffman was born and raised in Silver Spring, Maryland. He grew up in Shaare Tefila Congregation, where his passion for Judaism was nurtured by many people, most notably Rabbi Martin Halpern z"l and Cantor Gershon Levin z"l. He was a participant in the International Bible Contest in Israel in 1979, one of eight high school students representing the United States. Rabbi Hoffman earned a BA in the Biological Basis of Behavior at the University of Pennsylvania in 1985, an MHL and ordination from JTS in 1991, and more recently a Ph.D. in Talmud and rabbinics from New York University. His primary academic interest is the analysis of Biblical and rabbinic texts, often in ways that are "outside the box."
Most of Rabbi Hoffman's career has been spent serving two congregations in Long Island, the Lake Success Jewish Center (1995-2007) and Temple Israel of South Merrick (2007-2018). He is a past president of the Rabbinical Assembly of Nassau/Suffolk/Queens and has served on the boards of the RA Executive Council, the Hillel Institute for Conversion, the Long Island Board of Rabbis, the Great Neck Interfaith Clergy Association and the Black/Jewish Coalition for Justice.
Rabbi Hoffman has been married since 1989 to Phyllis Golden Hoffman, an opera singer with degrees from the Hartt School of Music (BA) and the Manhattan School of Music (MA). Phyllis has been for the last several years a teacher at PS 90, the Edna Cohen School, located in Coney Island. Rabbi and Phyllis are the proud parents of three adult children, David (25), Reuven (22) and Ethan (21).
Besides his work and family, Rabbi Hoffman's passion is running, a sport he has loved since his mother bought him Nike Waffle Trainers in 1976.
Hazzan Sara Geller
November 2002 - Present
cantorgeller@bnaishalomofolney.org
Hazzan Sara Geller, a lyric soprano, is marking her twenty-fifth year in the cantorate. She has served B'nai Shalom of Olney since 2002. Hazzan Geller prepares b'nai mitzvah students, teaches music and prayer in the religious and early childhood schools, and leads Shabbat and Festival services.
Hazzan Geller has been a member of the Cantors Assembly since 1999 and currently serves on its Executive Council. Last year she participated in the Jewish Federation's Tomorrow Fellowship. In previous years she served on a Montgomery County Public Schools Parent Advisory Council. In 2018 Hazzan Geller participated in the Institute for Jewish Spirituality's prestigious Clergy Leadership Program. Hazzan Geller has presented workshops at the UCSJ biennial convention as well as the Cantors Assembly annual conventions.
Hazzan Geller previously served congregations Ahavath Torah in Stoughton and Temple Beth El in Swampscott, Massachusetts. Hazzan Geller and her husband, Leon, an attorney, are the parents of daughters Ruth and Becky. Hazzan Geller holds a master's degree in Near Eastern and Judaic Studies from Brandeis University and a BA from Cornell University. Hazzan Geller is originally from New Rochelle, New York.
ABOUT OUR DIRECTORS
Monica Blum, Executive Director monica.blum@bnaishalomofolney.org
Monica Blum grew up in New Jersey and lived in Colorado for 10 years before settling in the Baltimore area about 19 years ago. Monica worked at Har Sinai Congregation in Baltimore County for 7 1/2 years in various roles, including Director of Communications. She served as the Temple Administrator at Har Sinai for 3 1/2 years.
Monica has a BA in English from Trenton State College (now The College of New Jersey). She is a graduate of the Darrell D. Friedman Institute's L'Atid Leadership Program. She was a Senior Member of NATA (The National Association for Temple Administration) and served on the Editorial Board for the NATA Journal. She is currently a member of NAASE (North American Association of Synagogue Executives).
When she's not working, Monica enjoys reading, writing and cooking. She is a wine lover, a cookbook collector and a crocheter. She has two sweet rescue dogs, Indy and Mavis. More than anything, Monica loves spending quality time with her three amazing children, Sam, Sophie and Rachael, and her long-time partner, Jeff.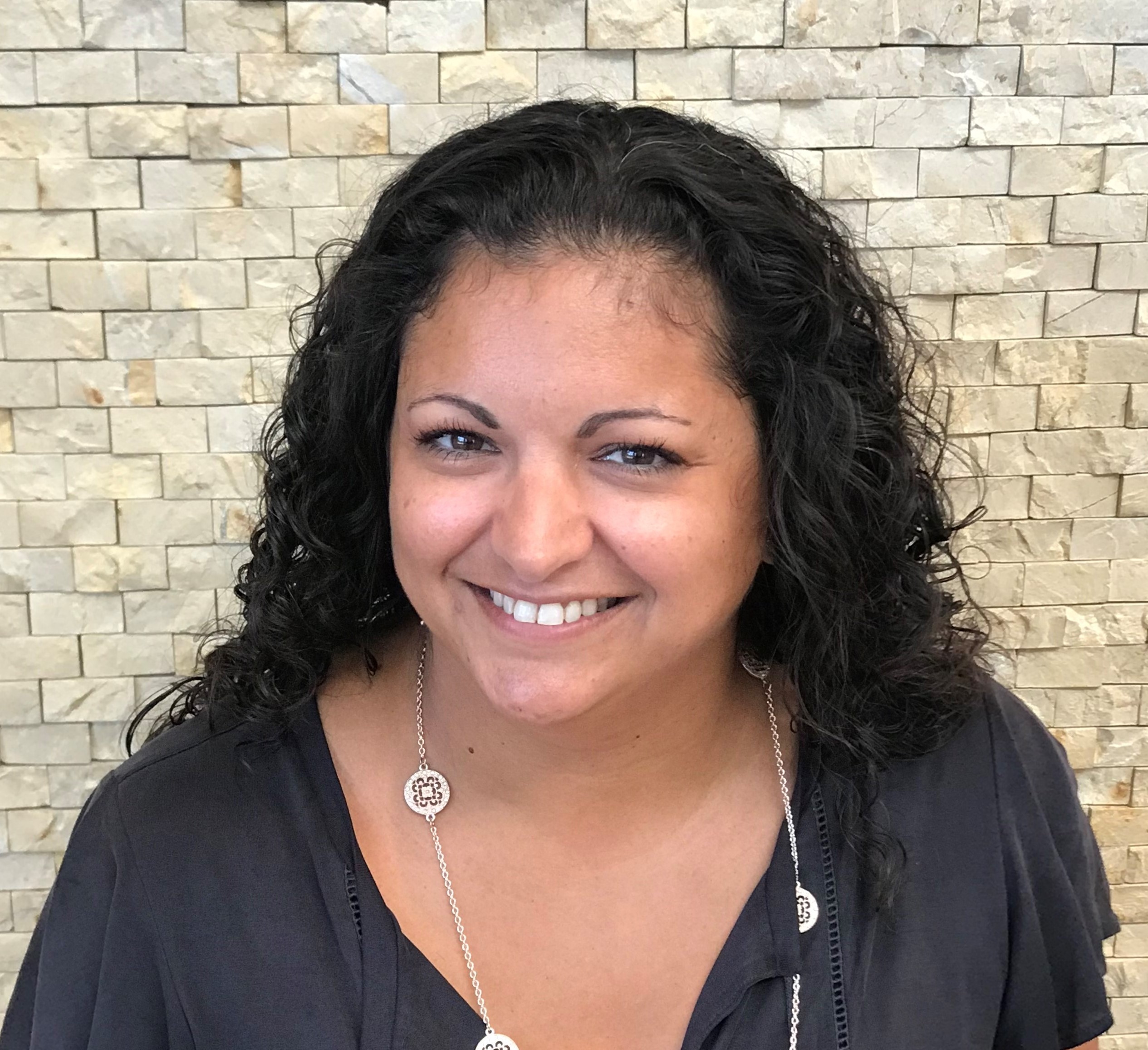 Dana Foster, Head of School dana.foster@bnaishalomofolney.org
Dana Foster was born and raised in Montgomery County, where she attended Hebrew Day Institute and graduated from Quince Orchard High School. She spent her summers with her mother's family in Israel and was active in her synagogue, Tikvat Israel, serving as President of her USY chapter there. She went to the University of Maryland where she studied English and Social Studies Education. In 1997, she studied Holocaust history in Hamburg and Berlin, Germany as part of Hillel's "Bridges for Understanding" program.
Dana first started teaching religious school her junior year of college and has done so consistently for the 20something years since. She worked for 10 years at the Close Up Foundation, a civics education organization, developing curriculum and training teachers from all over the country in experiential and issue-centered education.
Dana lives in Olney with her husband, Christian, and their two sons, Mason and Jacob. When she isn't on sports fields cheering for her boys, she can be found listening to musicals, reading or cooking.
ABOUT OUR STAFF
Andrea Keller, Membership Engagement Coordinator, BSO - andrea.keller@bnaishalomofolney.org Andrea has been employed at B'nai Shalom of Olney since April 2015 and is very familiar with our synagogue. Previously, her 2 daughters, Alison & Lauren, attended the ECS, and both girls currently attend Sherwood High School. Andrea graduated from Wootton High School and has a BA in Journalism from Radford University. As our Membership Engagement Coordinator, Andrea appreciates her close relationships and interactions with our community. Andrea lives in Olney and enjoys reading and listening to country music.
Jennifer Kramer, Executive Assistant, BSO - jennifer.kramer@bnaishalomofolney.org Jennifer comes to B'nai Shalom after spending 5 years with BBYO (NRE) in Rockville as their Office Manager/Executive Assistant. She was born and raised in Montgomery County and currently lives in Germantown with her husband, Kirill Reznik, their daughters, Caitlyn & Gabriella, and their 2 dogs, Mickey and Tinkerbell. When she's not working, Jennifer enjoys playing mahjongg, reading historical fiction, and relaxing with friends. She's very excited to be continuing her career within the Jewish community by joining the BSO family.
Christine Nguyen, ECS Administrator - christine.nguyen@bnaishalomofolney.org Christine is a recent graduate of University of Maryland Baltimore County with a bachelor's degree in Information Systems. She is excited to join the ECS community and start her first experience in early child education. Christine also has two loving dogs that take up the majority of her time and enjoys cooking as a side hobby.
Suzann Tom, Bookkeeper - suzann.tom@bnaishalomofolney.org
Suzann comes to B'nai Shalom with more than 30 years of experience in the accounting and finance field. She earned her Master of Science degree in business with a concentration in Information Systems from Johns Hopkins University. Suzann and her husband, Barry, along with their son, Ryan, have lived in Olney for more than twenty years. Suzanne is very active in the community and enjoys traveling and sports when she is not working.
Thu, June 4 2020 12 Sivan 5780